Light Wellingtons
Reference:
Manufacturer: Made in Portugal

Wellingtons under 2kg - good for travelling and for mail order as well as being vegan like most wellingtons. They are also made in Portugal - a democratic welfare state. The wholesaler doesn't stock size 40 or 45, preferring to sell in slightly fewer approximate english sizes.
Warning: Last items in stock!
Availability date:
Description of vegan shoe boot or belt
Average height across the sizes is 23cm. The sole tread very deep under the heel, which will pick-up a lot of mud but also provides a little cushioning while you walk. These are in the "slip on" category, but you know how wellingtons work: there's nothing like a lace or elastic; you just shove your foot in, and if they rub you wear thicker layers of socks or add an insole.

Recycling is probably hard because plastic and fabric are melted-together.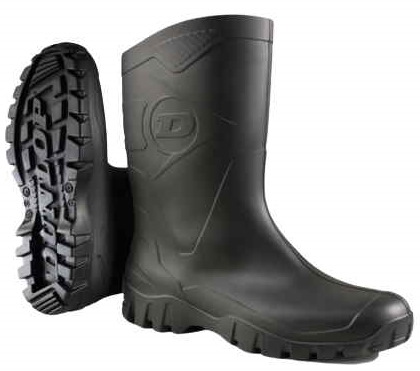 Shoe sizes, vegan materials & more...
| | |
| --- | --- |
| Gender, fit | Unisex |
| Soft or mid-sole | none |
| Size system | EU sizes without 40 and 45; also labelled as the nearest English sizes |
| Toe Cap | Stiff toe cap designed to keep the toe shape |
| Fastening | Slip-on - either a mule or with stretchy elastic sides |
| Upper | Moulded plastic upper and sole |
| Washing | Hand wash with soap and warm water. Soaking is OK. Machine .wash at your own risk because of the weight |
| Drying | towel-dry the inside toe area and leave in a warm or windy place for several hours |
| Compostable | no - but some Veganline.com shoes last a long time |
30 more vegan shoes boots and belts: