Light Wellingtons
Reference:
Made in Portugal

Wellingtons under 2kg - good for travelling and for mail order as well as being vegan like most wellingtons. They are also made in Portugal - a democratic welfare state. The wholesaler doesn't stock size 40 or 45, preferring to sell in slightly fewer approximate english sizes.
in stock Warning: Last items in stock!
Availability date:
£2.85 UK postage if 2nd class small parcel
pack ■
2.00 kg
, ↔
30.0 cm
, ⤢
30.0 cm
, ↕
14.0 cm
,
In the UK we can probably send heavier parcels for the same price by courier.
360° View
More info
Average height across the sizes is 23cm. The sole tread is very deep under the heel, which will pick-up a lot of mud but also provides a little cushioning while you walk and insulation against cold. These are in the "slip on" category, but you know how wellingtons work: there's nothing like a lace or elastic; you just shove your foot in, and if they rub you wear thicker layers of socks or add an insole.

Recycling is probably hard because plastic and fabric are melted-together.
 
The brand is from a 19th and 20th century UK company that closed after the UK currency-hikes of the 1980s and onwards, but Havea in The Netherlands bought the brand for wellies made in Europe and own Planeta Plasticos who do the moulding. (The trademark for sports goods is owned by Sports Direct and used for Vietnamese imports)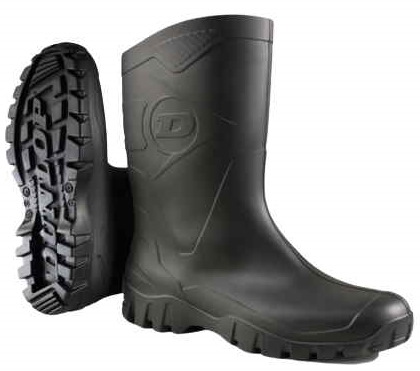 Data sheet
| | |
| --- | --- |
| Material | Moulded plastic upper and sole. Vegan of course. |
| Size System | EU sizes without 40 and 45; also labelled as the nearest English sizes |
| Size System Name | EU |
| Size System Gender | Unisex |
| Gender, fit | Unisex vegan shoes boots, vegan boots, belts sandals & slippers |
| Colour | Black-ish |
| Soft mid-sole | none |
| Toe Cap | Stiff toe puff between the upper and lining, designed to keep the toe shape |
| Fastening | mule sandal or wellie without adjustment |
| Washing | Hand wash with soap and warm water. Soaking is OK. Consider the weight before machine washing - maybe wash in a pillow case. Instinct, risk & thought and obvious facts apply. |
| Drying | towel-dry the inside toe area and leave in a warm or windy place for several hours |
| Compostable | no - but some Veganline.com shoes last a long time |
| Pack | Recycled envelope and printed label |
| Category | 187 |
| Brand | Dunlop |
Product ID
Colour: Black-ish
Size System:
EU
Unisex
Brand:
Dunlop
Google Product Category: 187